If you're considering an outdoor kitchen set up next summer and wondering "do I need a vent hood for outdoor kitchen", Stop here!
You might think that installing an outdoor vent hood is bearing to cost a lot. But if you don't install a vent hood for the outdoor kitchen then how to keep your outdoor place comfortable? Because, the outdoor kitchen should be a place where you can enjoy great conversations and memories with your family and friends, of course, you have to install a vent hood for an outdoor kitchen.
In this article, we will discuss why you need an Outdoor Vent Hood for Your Kitchen and we take a look at the two most popular outdoor vent hoods featured later in the article. Don't miss it!
Reasons To Why Do I Need a Vent Hood for Outdoor Kitchen
Let's discuss what else matters to should buy a vent hood for an outdoor kitchen. If these reasons match your situation, then you definitely need an outdoor vent hood.
You need an outdoor grill to make your family-friends time
Usually, in summer we all like to hang out with friends or family outside the house. Late-night partying or gossiping often means a huge grilling with plenty of coke and drinks.
Grill means lots of smoke and oils. There is more to it than generating only smoke and oils. It is also essential that they are properly disposed of. Otherwise, the favorite area to hang out will become full of smoke which is not desirable.
You enjoy hosting barbecues, parties, and other social gatherings
If you like big social gatherings or parties, you may want to consider getting an outdoor vent hood. Because, get-togethers mean a lot of cooking steaks, grilling chicken, or deep fish fry. which produces a huge amount of smoke, grease, and oils.
As you host a party or get-together in an open space you have to ensure that all the smoke and grease are completely removed from the place where your guests enjoy.
You cannot tolerate grease, smoke, and cooking odors
Many people cannot bear excess smoke, and cooking smells. Especially those who have asthma problems like me. Since it's an outdoor kitchen and place for friends-family so there may be many people exist who can't bear it and difficult to handle massive smoke.
So, if you want to get rid of those conditions, you must think about an outdoor vent hood.
If you have to fight constantly to keep your backyard walls and surfaces clean
Investing in an outdoor vent hood will keep your backyard clean and fresh for a long time. A range hood can prevent your outdoor kitchen from producing excessive heat, smoke, toxins, and grease that can discolor and damage your ceiling, cabinets, or furniture. In order to protect your investment, you should purchase an outdoor vent hood so that your backyard cooking space remains clean.
All the smoke and grease elements accumulate with the air and they blend with all the surfaces of your backyard and spoil their shine. If you want your backyard clean and avoid the hassle of having to clean it yourself, then an outdoor kitchen is a must.
You want to impress your friends and family with a WOW appearance
If you have a beautiful outdoor vent hood on your home outdoor this will impress your friends and guests. Because every range hood has an elegant appearance, which can be the first conversation topic of your conversation. By installing the outdoor vent hood, you will eliminate all fumes and grease from your outdoor kitchen, then everyone will be impressed and appreciate it when they see such cleanliness and freshness.
You're planning to build or remodel an outdoor kitchen
If you're planning to build an outdoor kitchen or remodel an existing one, you should consider an outdoor range hood. You aren't wasting money, it's a long-term investment for several years to come.
Keep in mind that you're not just setting up a kitchen; you're setting up a place where you always gather with your guests or friends. When it comes to spending your best time, you must choose a place that is grease-free and smoke-free.
How to Choose a Vent Hood for Outdoor Kitchen?
Size – Outdoor Vent Hood Sizing Guide
Size is a great matter of regret for the outdoor kitchen vent hood. We recommend at least 12 inches larger hood considering your range. Extra-large 12 inches will be enough to cover the lower range properly in both directions. As a result, it increases the performance of smoke and grease capturing.
For example, a 24″ range needs a 36″ outdoor vent hood and a 36″ range needs to vent with a 48″ vent hood.
Look at our outdoor range hood sizing table below,
CFM – How many CFM do I Need for An Outdoor Grill?
You should look at the vent hood's CFM. As it is an outdoor range hood it should be more powerful to do its job in an open environment.
Generally, we recommend a range hood with a CFM of 1200 for outdoor kitchens since it has to deal with the wind of air and the amount of smoke produced by the grill. Besides, you can calculate how much your grill machine requires CFM. Suppose, the total BTUs of your grill is 90,000. Simply 90,000 divided by 100 which means you need a 900 CFM outdoor vent hood.
Material
Since it's an outdoor appliance, it's going to get very dirty, making stainless steel range hoods more convenient to clean. A vent hood should be cleaned after every 24 hours of use to prevent dripping grease and dirt build-up. To make the task easier you should go for a stainless-steel outdoor vent hood.
Filters
In terms of the outdoor kitchen, we suggest baffle filters. Because baffle filters are more efficient than mesh filters. In contrast, baffle filters can be cleaned very easily with a dishwasher. A baffle filter is very strong to catch the maximum amount of grease to prevent build-ups.
Duct Size – Do I Need to Duct My Outdoor Range Hood to The Outside?
When a duct pipe is sized incorrectly, it can pose a fire hazard. Therefore, it should be remembered that ductwork should be sized properly. In general, 1200 CFM range hoods require ductwork that is 10 inches in diameter.
Below, we will discuss duct size in more detail.
Venting Type – Do recirculating hoods work outdoors?
A ducted range hood is most useful for the outdoor kitchen. Because the suction of ductless outdoor vent hoods is not suitable for outdoor kitchens. Due to the recirculation of smoke, your porch and patio will remain greasy and dirty with a ductless hood.
Only ducted range hoods can fulfill your satisfaction with efficient suction tasks. You can only achieve your ideal outdoor environment with a ducted outdoor vent hood.
2 Best Outdoor Vent Hood for Your Outdoor Kitchen
If you need help picking the right vent hood that's best for your outdoor kitchen and if you are looking for the Best Outdoor Vent Hood then you can check these two range hoods of our recommendation.
An outdoor kitchen produces a lot of smoke and fumes, so a strong vent hood is necessary to remove the smoke. Blaze 42-inch Stainless Steel Outdoor Vent Hood is a range hood whose powerful 2000 CFM power will make your patio smoke-free and peaceful. Its 6 commercial-grade baffle filters capture all grease and fumes from your BBQ and steak. Also, they are dishwasher safe which will make your cleaning task easier and peace.
This Blaze 42 inch Outdoor Vent Hood comes with 4 unit halogen lights that are committed to illuminating your cooking area to confirm BBQs last position. You can adjust its fan speed to cope with heavy smoke and ensure your needs are met every time.
Features of Blaze BLZ-42-VHOOD
2000 CFM pro performance with 4-speed fan settings.
Easy to wash dishwasher safe 6 unit commercial-style baffle filters.
4 Units of halogen light to brighten your BBQ area.
42-inch extra deep vent hood efficiently covers your 36″ area to smoke-free.
Let's introduce the 1200 CFM airflow ZLINE 48 inch outdoor vent hood. Which is appropriate for 1,00,000 to 1,20,000 BTUs grill machine. Respectively its "280 CFM, 460 CFM, 670 CFM, 1200 CFM" 4-speed fan setting will perfectly blend with your cooking situation. Additionally, there are two LED lights that illuminate the area.
External venting is needed for this heavy-duty 48-inch outdoor vent hood, which is easily connected to ductwork via the top. It produces 52 dB only which is unbelievable for this type of powerful range hood.
Features of Zline
1200 CFM suction airflow power.
4-speed fan with various power as your need.
Pocket-friendly reasonable price range.
Stainless steel elegant outlook to impress your guests.
Push the control button with 2-unit LED bulbs.
---
How to Install Your Outdoor Vent Hood – Outdoor Kitchen Ventilation Requirements
Outdoor range hood installation is the same as Indore range hood installation. But it would be best if you were concerned about where to install your vent hood. Unless the vent is installed properly, you will only get a range hood and not get proper suction efficiency. So, it is better to hire an experienced contractor.
Tools you need to install a vent hood
Power Screwdriver with the extension (Which will help you tighten the inner screws)
Power Drill
Tape Measure
Level Ruler
Stainless Steel Tape
Pencil/Marker
Step – 1: Drill a hole in your outdoor wall to accommodate your ductwork.
Step – 2: Connect the ductwork with a stainless-steel vent cap and duct tape.
Step – 3: After completing the ductwork installation process you have to prepare the bracket place to hang the range hood.
Step – 4: Hang the range hood brackets with a help of a person.
Step – 5: Ensure all screws are tightened properly to prevent damage.
Step – 6: Install the ceiling chimney to cover ductwork and other electrical cables.
Step -7: Turn on the range hood and enjoy your outdoor kitchen.
You can check this wall mount range hood installation blog or you may watch this video for efficiency.
Read Also: How to Install a Wall Mount Range Hood
Make sure you have the right mounting Height Measurements
If the range hood is installed higher than the cooking area, it decreases the original efficiency of the machine rather than raised in a straight line as it should be. It is also difficult to clean due to the low height of the installation.
So, install your range hood 36 to 42 inches above the grill or cooktop. It is a suitable place where the hoods become more efficient.
Outdoor Kitchen Ventilation Requirements
It is important to select a duct size that will fit your range hood's CFM. Since outdoor kitchens produce a lot of smoke, odors, and fumes, you must consider their ductwork carefully. Because ductwork makes the suction task successful. Your range hood will not be able to perform its effective function if the ductwork is not compatible with the CFM of the unit. As a result, it is recommended to use the size that is required for CFM.
Otherwise, due to immature ductwork, oil and grease accumulate in the duct and reduce the efficiency of the vent hood.
Range Duct Size Requirements For CFM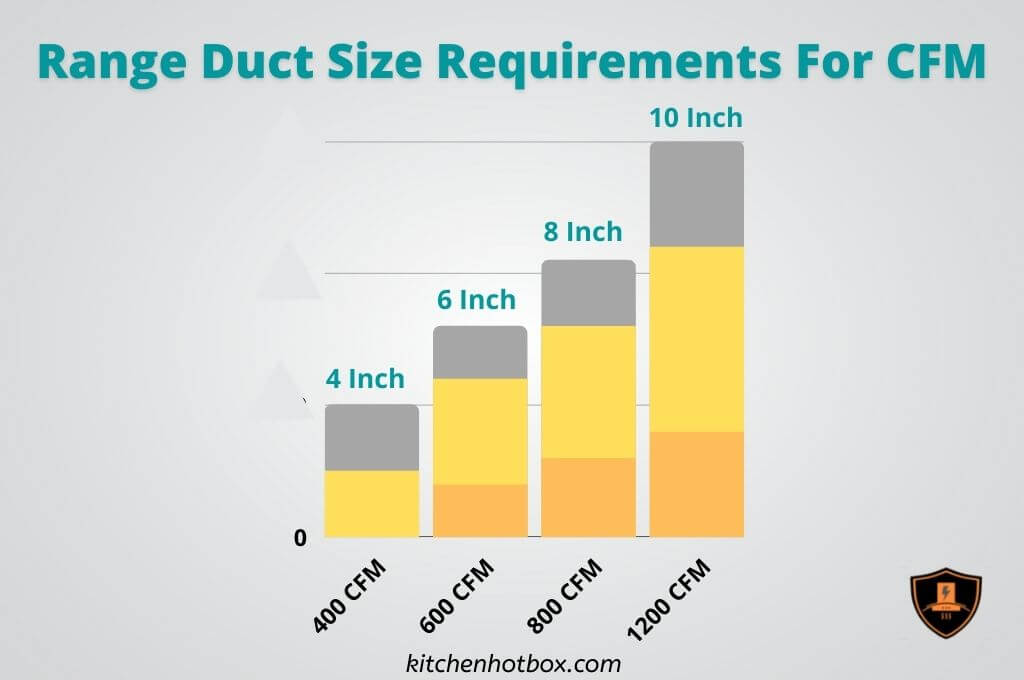 Use a rigid duct instead of a flexible one
As outdoor range hoods look larger and more gigantic than other indoor range hoods, they perform heavy suction operations, which require long-lasting, durable ductwork to be installed in the outdoor vent hood. So, use rigid ductwork in outdoor vent hood ventilation. Because rigid duct is more effective and long-lasting than flexible ductwork. In flexible ducting, airflow is randomized, instead of maintaining a smooth flow, which results in a loss in performance.
Be concerned about Duct Termination
Using a smaller or wrong-sized duct tape may result in problems with normal smoke removal pressure. Therefore, the vent cap and damper should be used as per the requirement of vent hood ductwork installation. For example, In the case of wall venting, it should be terminated by a wall vent cap and in the case of roof venting, it should be covered by a U-shaped elbow cap.
Do I Need to Duct My Outdoor Range Hood to The Outside?
If you are planning on building an outdoor kitchen, you should consider installing a ducted outdoor vent hood instead of a ductless outdoor vent hood. Since an outdoor kitchen means cooking lots of steak and grill, you have to face huge smoke, fumes, and grease. Smoke and grease must be properly removed from the outdoor space if you want it to stay clean and fresh. Hence, it is recommended to install a ducted vent hood.
Because ducted is more efficient than ductless outdoor vent hood. Ducted vent hoods need to be vented outside. If you duct the outdoor range hood, then the ducted range hood will remove all cooking fumes and odors. A ducted hood is needed to protect your outdoor cooking space and eliminate strong cooking odors. Outdoor range hoods must be ducted outside to prevent your outdoor space from becoming smokey.
Do You Need a Permit for an Outdoor Kitchen?
Generally, not all cities require a permit to set up an outdoor kitchen. But some city zoning requires permission from the authority to build fences, sheds, swimming pools, and other similar structures as there exists a restriction.
First things first, you must concern about your area. Obviously, you don't have to build a kitchen at the neighbor's house. If you're not sure about your area, contact your city clerk.
It is important to check with your authority what requirements pertain to large renovation projects since you are going to install an outdoor kitchen that will need a large vent hood.
Be mindful of your local building codes and safety regulations if you need to install additional plumbing or electrical lines. Using these codes and rules tells you how to build an outdoor kitchen and how to install it.
By keeping the above outdoor kitchen ventilation requirements in mind, you will not face any problems in the future.
Final Verdict
You should not only use your outdoor kitchen for cooking delicious meals but also for having fun with your family and friends. That's why our team tries to make the best guide on your question "Do I Need a Vent Hood for Outdoor Kitchen".
Hope the above discussion will cover your range of thinking about outdoor vent hoods.
Related Informative Guide
How to Install a Wall Mount Range Hood
How To Remove Range Hood In Your Kitchen